The Faded Clover was created in thanks to alphabetical order. While both studying Graphic Design in college Pete and Emily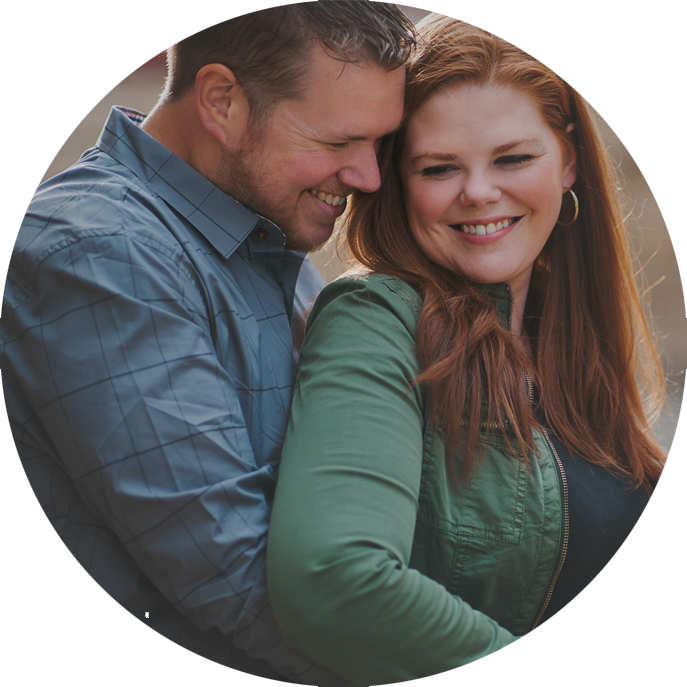 were continually stuck sitting by each other and being project partners because their last names were McCommons and McGlothlen. They quickly became friends and many many years later became husband and wife. Now with the same last name, McCommons, they still are forced to sit together.
During the day they both work at Emily's family's businesses. They sometimes find themselves delivering flowers for Miller's Florist but most of their day hours are spent working at The Little Red Hen Quilt Shop. Emily started designing quilt and sewing patterns for her parent's quilt shop in 2011. Pete instantly became Emily's unofficial after work art director. While everyone would say that looks great, Pete helped her to polish and refine her designs. She has had seven quilt books published along with many single patterns. Pete and Emily decided that traveling together in a giant van across the country to quilt shows selling Emily's designs would be fun. So Pete supportively left his nursing job and they made a deal to travel for a year together. Three years later they are still traveling around the country in a giant van, although they have cut back on miles.
Through Pete and Emily's quilt show adventures they have build a million and two custom displays. They spent a lot of time on making functional and pleasing displays. The displays became just as important in the customer's shopping experience as the product did. In building displays they realized they really enjoyed creating wood projects together. So after a really great quilt show where they got maybe a little over confident in their display building skills the idea of starting a business selling wood home décor products was born.
Two weeks later after making many long list of ideas and concepts they cut out their first project. Because they are crazy and probably need a mental health check, the next day they signed up for their first craft show which was two weeks away. Somehow they successfully made it through their first show, sold some items and even got a few orders.
The Faded Clover is all about creating well designed meaningful gifts and home décor. We have a wide range of products including wall art, ornaments, engraved rolling pins, engraved glass products and so much more. We love designing items with a special story or person in mind.
For our local customers we offer free store pick-up. Miller's Florist and The Little Red Hen have generously offered us floor space to show our current stock and samples. When you place an order online you will receive an email when your order is ready to be picked up at Miller's Florist/The Little Red Hen at 612 Hope Ave Muscatine, Iowa.